Lynette Fisher's TEAM ONE is the #1 Real Estate Team in Lake Havasu City!
Whether you are buying or selling Lake Havasu City real estate, or desire to find information about Lake Havasu City or Mohave County, welcome to FindHavasuRealEstate.com!
Lynette Fisher is the leader of the most successful real estate team in Lake Havasu City with 3 Realtors® who will work 7 days a week to help you buy or sell. The key to Lynette Fisher's TEAM ONE success is SERVICE provided by a well equipped office, staffed by a full time Administrative Assistant, full time licensed Transaction Manager and a Web Coordinator.
Why hire a single Lake Havasu City real estate agent to help you buy or sell when you can have Lake Havasu City's most successful team for the same price?  TEAM ONE specializes in residential listings and sales in all sizes and price ranges and has closed more than 250 transactions since 2010.  TEAM ONE's mission is to provide you a positive and pleasant real estate experience.
Please search our site for FREE access to all real estate currently available in Lake Havasu City. Should you have questions or wish to schedule an appointment with TEAM ONE, please call (928) 505-HOME[4663].
Don't forget to FOLLOW us on "Twitter" and LIKE us on "Facebook!"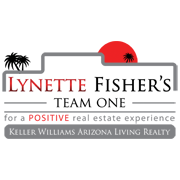 FOR MORE INFORMATION ON OUR TEAM INCLUDING VIRTUAL TOURS, BLOGS, EVENTS IN LAKE HAVASU CITY and MUCH MORE CLICK HERE!
Lynette Fisher's Team One
Keller Williams Arizona Living Realty
M:

928-486-7301

O:

928-505-4663
Communities
Communities Served
We can't say enough good about Lynette and her team. They were very professional from the beginning through the close of escrow. Would immediately hire her if we were in need of an agent again.
  -Philip Hayo, Client
Lynette and her team were wonderful to work with, from the listing process though the close of escrow. Because my home was an unconventional listening I thought it would take at least five years to find the right buyer. She assured me that she could sell it within one year and she did! I highly recommend Lynette for any of your real estate needs.
  -Jim and Carol, Client
Tohducown! That's a really cool way of putting it!
  -Caiya, Other
Lynette and her team were very professional and pleasant to work with. Frequently her asst Lori was the one who I was in contact with except for the negotiations. Both women were knowledgeable and prompt in answering questions.
  -szq928 , Client